To better understand what working on COVID-19 during the pandemic entails, we have interviewed RECOVER project member Melanie Hoste about her role in the project and day-to-day activities.
What is your role within RECOVER/in the COVID-19 pandemic and what it entails?
I am a PhD student working as part of both RECOVER and VALUE-Dx that is co-promoted by Professors Sibyl Anthierens and Herman Goossens, and co-supervised by Dr. Sarah Tonkin-Crine and

Dr.

Nina Gobat.
I am working as part of the social science team for RECOVER.
Could you tell us a little bit about the project/work you're involved in?
The social science team is carrying out a number of qualitative studies one of which is called RECOVER-Qual. This research aims to understand the experiences of patients and healthcare professionals in primary care settings in the context of COVID-19 across 8 different European countries.
I am currently focused on analysing patients' experiences who present themselves in primary care with COVID-19 symptoms.
Experiences of patients are captured via interviews. Usually these interviews are done face-to-face but because of the pandemic, we have to rely on telephone or video interviews. The interviews are done in the local language of the country before they are transcribed, translated in English, and sent to me.
These interviews are semi-structured which means that we have a general guideline of topics that we as researchers like to ask from the interviewees rather than a strict question sheet we have to follow. In this study, the types of questions that are asked to patients involve: their experiences when consulting a GP; how they felt when they were sick; what were some of the difficulties they faced during the pandemic; how did they manage those difficulties; how they took care of themselves and their mental health, etc.
As soon as I get the English translation of the patients' interviews, I carry out an analytical process on the interviews called coding. Coding in social science and qualitative research basically means identifying themes and relationships that exist in the data, in this case, the interviews. We usually use a software called NVivo that helps us label, map out, and organise themes and concepts, all in an effort to gain an in-depth understanding of human experiences.
In the context of COVID-19, what are some of things you've found easy/challenging to work with?
Easy to work with?
People that we're working with are helpful and willing to participate in qualitative studies.
Challenging to work with?
The limited physical contact/in-person contact with others as qualitative research usually has that element of being able to interact with your participants.
What is the expected impact of the work you're doing?
Social science research on epidemics and pandemics is multi-faceted and there are many types of elements it can research for instance: understanding human experiences and its relation to the disease, the impact it can have on behaviour, the sociocultural influences on health practices, the political and economic dimensions that come with outbreaks, to name a few.
In this particular study, by understanding patients' perceptions of COVID-19 from primary care, it can help inform decision makers on what patients really experience and face. In this way, for future health emergencies, they can keep in mind what has work and what didn't work, and patients' concerns relating to standard of care in primary care sites.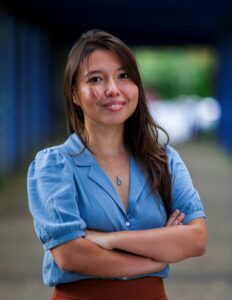 Melanie is a PhD Student at the department of Family Medicine and Population Health (FAMPOP) and the Laboratory of Medical Microbiology at the University of Antwerp.
Melanie studied Biochemistry and Social and Cultural Anthropology before working as a communications manager for different EU-funded projects focused on infectious diseases and coordinated at the University of Antwerp. She has an interest in medical anthropology around epidemics and pandemics and her PhD research will be focused on COVID-19 and infections in primary care. She is involved in the social science work of RECOVER where patients with COVID-19 are being interviewed from primary care on their experiences with the virus and having consultations with their primary healthcare practitioner during times of a pandemic. 
Melanie is also involved in VALUE-Dx where she will be capturing experiences of patients and healthcare professionals in primary care in using diagnostics that test for respiratory infections for a clinical trial.