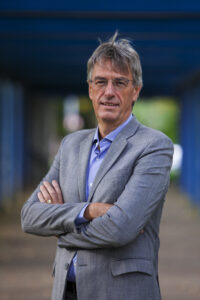 The ESCMID Award for Excellence in Clinical Microbiology and Infectious Diseases is ESCMID's most prestigious award. For 2020, the ESCMID Executive Committee selected Prof. Herman Goossens (University of Antwerp, Antwerp, Belgium) as recipient of this prestigious award. Prof. Goossens was given this award in recognition of his important contribution to research and education in the field of clinical microbiology and infectious diseases.
Due to the Corona pandemic, ECCMID2020 had been cancelled and Prof. Goossens was unable to receive his award. This year, he will give his recipient lecture entitled "Transcending European clinical research in infectious diseases through collaboration to break down traditional silos", the 10th of July at 09:30.
During his lecture, Prof. Goossens will not only look back on his work of the past 20 years, but also provides some important lessons learned in response to the current corona pandemic. He believes that, among other things, the EU clinical research response was too fractured and fragmented, and that there was a lack of global leadership and coordination. In order to prevent this from happening in the future, he recommends, for example, to invest in clinical trial networks and develop partnership that allows top-down prioritization of clinical research. Therefore, in the coming years, he will focus on ECRAID, a European Clinical Research Alliance on Infectious Diseases. This European-wide initiative with the goal of establishing a sustainable clinical research organisation and network for infectious diseases.
"The COVID-19 pandemic proved that we were visionary in building a sustainable, operational high quality large-scale clinical research European infrastructure, by bringing together experts and research infrastructures in antimicrobial resistance (mainly bacteriologists) and Emerging Infectious Diseases (mainly virologists). This is an once-in-a-lifetime opportunity to gear up the public and private resources already invested in COMBACTE and PREPARE, as well as many recently funded COVID-19 EU projects such as RECOVER, EU-RESPONSE, ORCHESTRA, VACCELERATE. If we don't collaborate, we will fail and stand accused of having turned our back on the prospect of tackling pandemic infectious diseases, and effective investigations and treatments of infections for our citizens…." Prof. Herman Goossens.


SCIENTIFIC OUTPUT AND AWARDS
Herman Goossens is Professor of Microbiology and Lead of the Laboratory of Medical Microbiology at the University of Antwerp. In addition, he is director of the Dept. of Clinical Pathology of the University Hospital, Antwerp. He authored more than 800 Web of Science cited papers, and his papers have been cited close to 25,000 times. He was promotor of close to thirty PhDs, authored more than 20 chapters and was invited as a speaker at more than 400 international events. He was the founder of the Belgian Antibiotic Policy Coordination Committee (BAPCOC) and the European Antibiotic Awareness Day. He received several honors and awards, including the Solvay award in 1983, the Horlait-Dapsens award in 1987, the Vesalius award in 1987, the Goslings price of the Dutch-Flemish Society of Infectious Diseases in 1991, the "Eugène Yourassowsky" price of the Belgian Society for Clinical Microbiology and Infectious Diseases in 2001, 2002 and 2006, the Leadership Award by the American Alliance for the Prudent Use of Antibiotics (APUA) in 2006, and the medical sciences award of the Belgian Royal Academy of Medicine in 2017. In 2008 Prof. Goossens obtained the prestigious status of Methusalem top-scientist from the Flemish government.
---